In this literary piece, Baba the cat stands out not only as the protagonist but also as the storyteller, making it an exceptionally unparalleled chronicle of a feline's tale.
In his latest book, "A Cat's Tale," Paul Koudounaris delves into the intriguing history of cats. The book was inspired by his own pet cat, Baba, whom he adopted from the North Central Animal Shelter in 2011. Although he never intended to adopt a pet, Koudounaris couldn't resist the charming six-month-old brown tabby with her captivating green eyes and outstretched paw. Baba served as both model and narrator for the book, which spans thousands of years of feline history, from ancient Egypt to present times. In "A Cat's Tale," readers will discover fascinating details about well-known and lesser-known cats, chronicling Felis catus' incredible journey throughout history.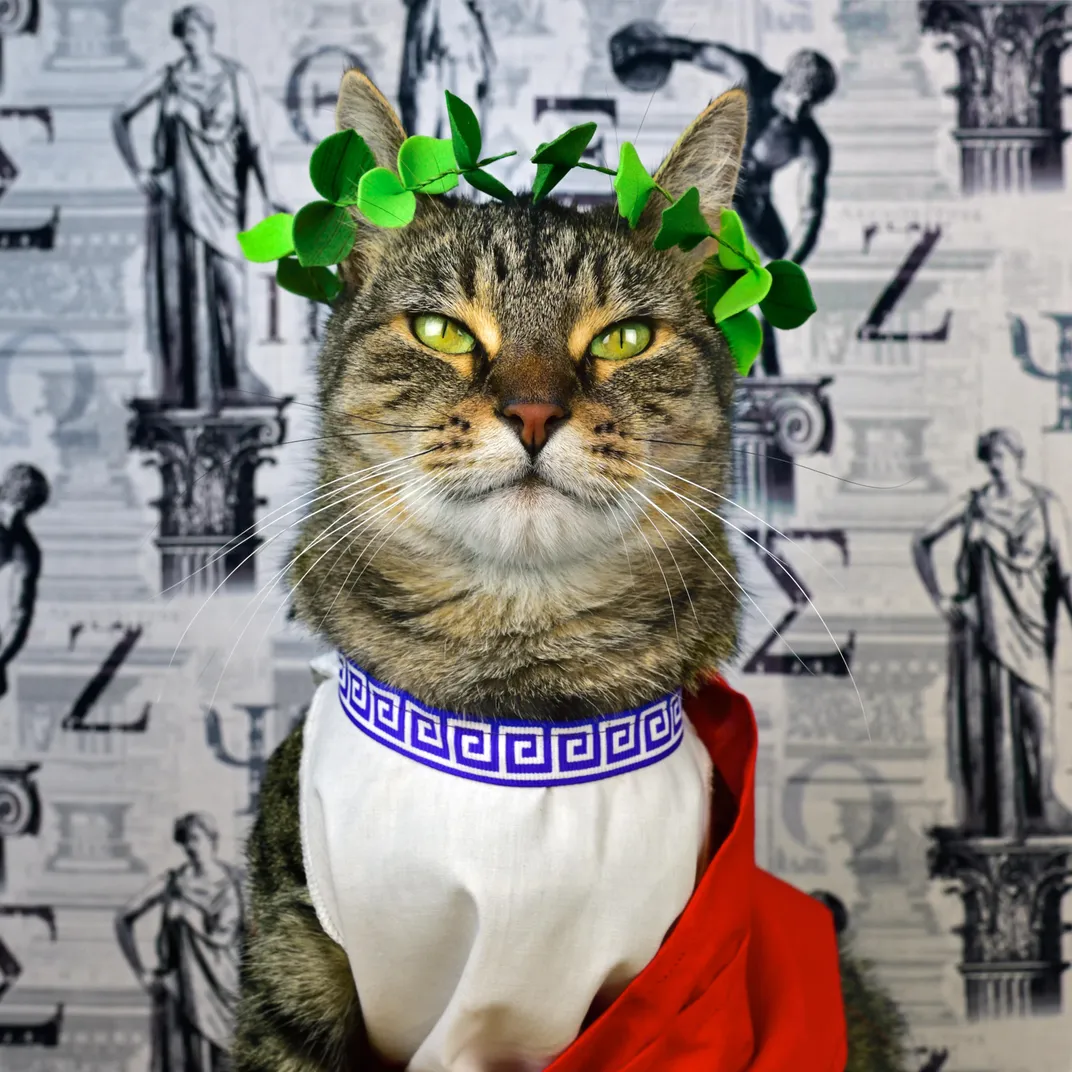 Buckle up for an amazing adventure with Baba the Cat as your tour guide, as we delve into the fascinating world of feline history. Brace yourself for a thrilling ride that will unveil the real essence of these furry creatures – their courage, loving nature, heartbreaking stories, and even their altruistic acts. While you may be skeptical at first, Baba the Cat is ready to show you that the history of cats is truly captivating and significant, beyond your wildest dreams.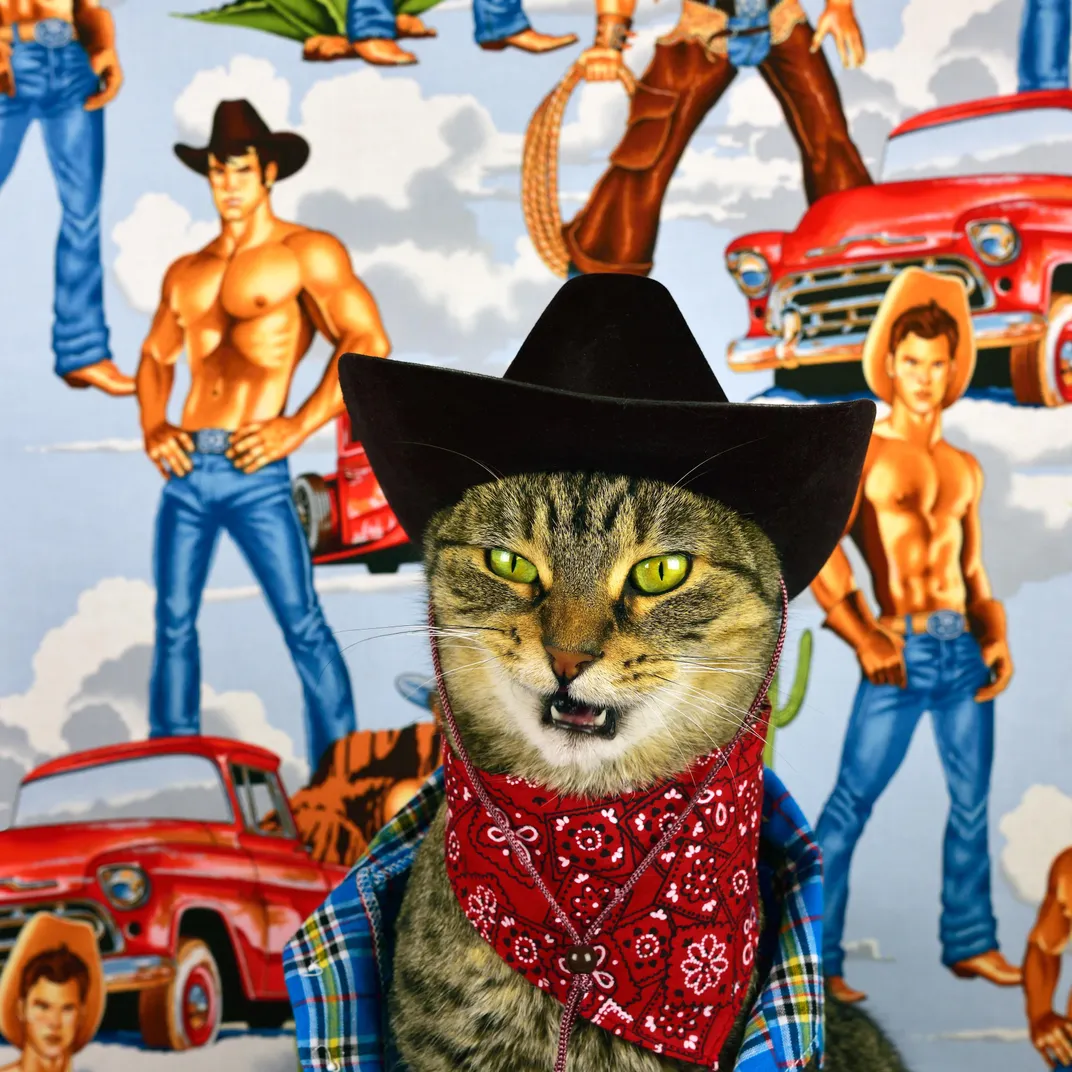 In the era of Julius Caesar, the Roman soldiers had a clever trick to safeguard their provisions from bothersome vermin – the use of cats! These cute little animals were valued by the soldiers and were even brought along on their expeditions to Britannia. Some armies even incorporated cat depictions on their shields. This is definitely an intriguing piece of information, shared with us by Paul Koudounaris.
In earlier times, cowboys used to take their feline companions along on their travels for companionship and pest control purposes. The idea of cats being more than just pets gained popularity through literary works of famous writers like Mark Twain and poet Cy Warman. Paul Koudounaris has presented an original perspective on the history of cats in his book titled "A Cat's Tale." The book is narrated by Baba, a cat who not only sheds light on the historical background of cats but also appears dressed up as iconic figures throughout the book. Koudounaris has gone beyond typical human-centric stories and included the stories of neglected cats and animals that have been ignored by history. Koudounaris' inspiration for this book came from his research on pet cemeteries worldwide. He realized that he had way too many captivating stories about cats that could not be included in his previous project, and thus, he decided to create a book that would showcase an extensive history of cats, with Baba as the lead character.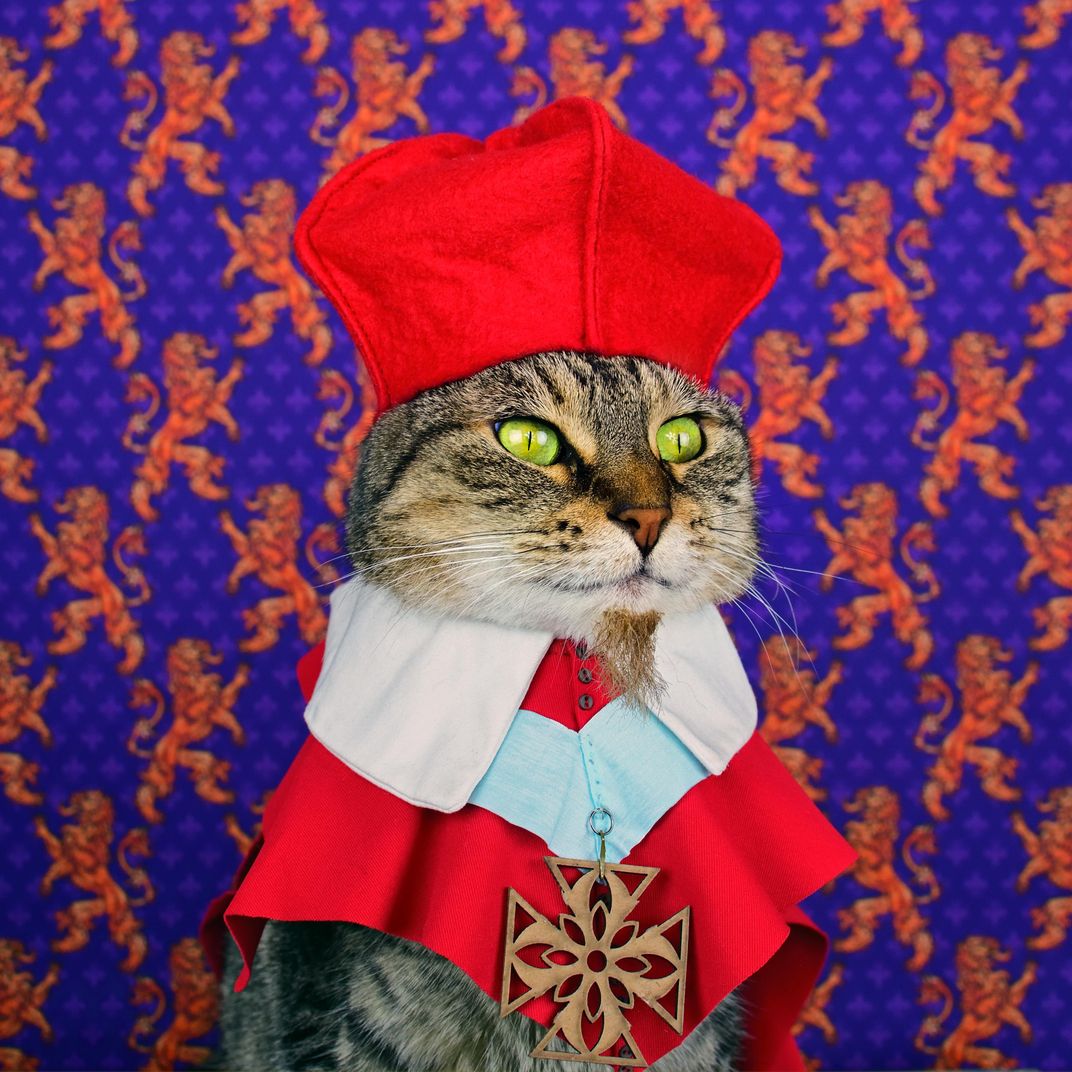 Cardinal Richelieu, the chief minister during the reign of Louis XIII in France, was known for his firm and assertive leadership style. However, he also had a soft spot for cats and often had a group of twelve feline friends with him. According to a historian who chronicled Richelieu's life, the cardinal's "authoritarian" personality became much more friendly when he was surrounded by his beloved furry companions.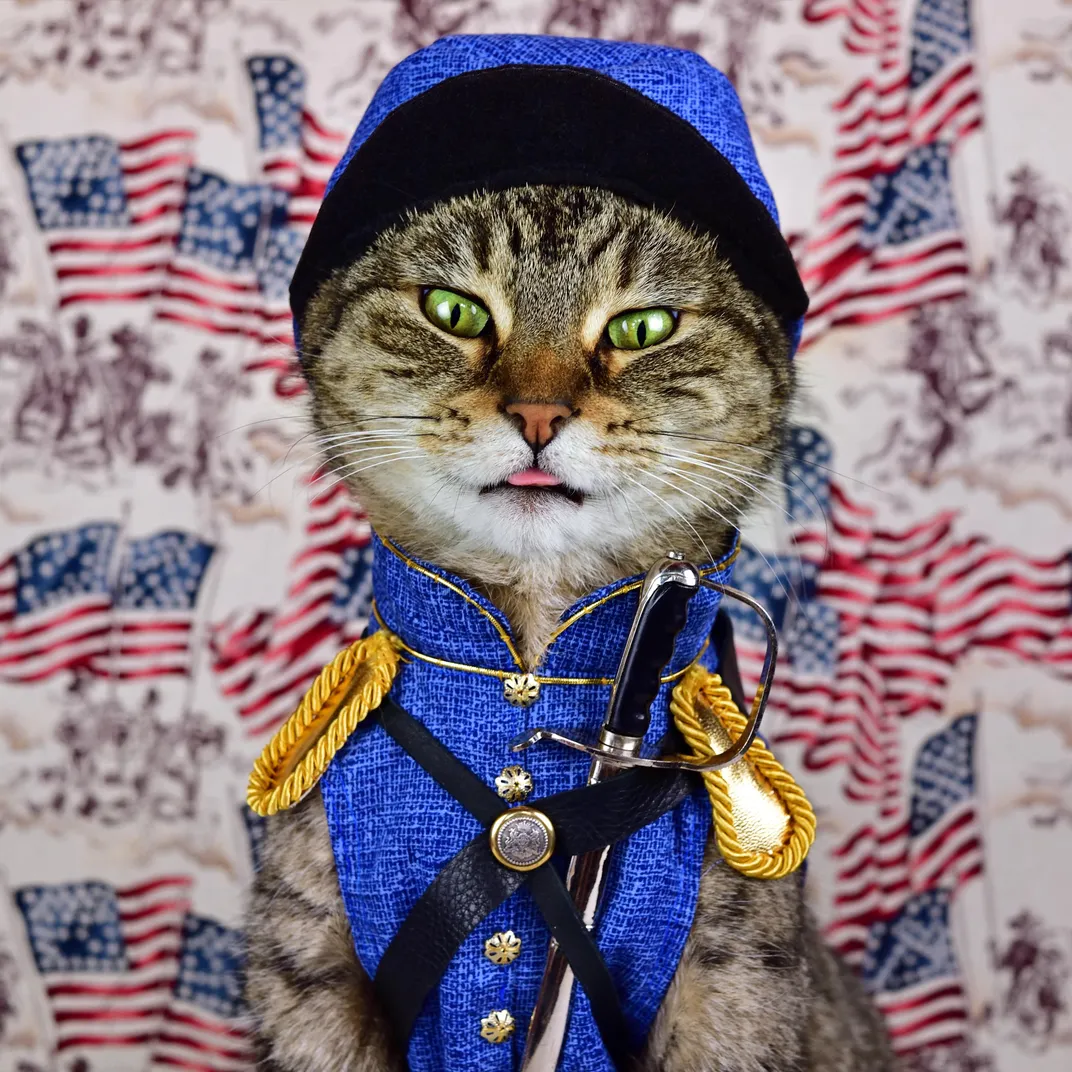 During the 1800s, cats were commonly housed in U.S. Army commissary storehouses with a budget assigned specifically for their care. Paul Koudounaris authored A Cat's Tale, which celebrates his fondness for his cat Baba while exploring the history and cosplay of felines. To create the book, Koudounaris developed costumes for Baba and conducted extensive research using archives and libraries to examine the role of cats in human society. Choosing the suitable outfits was the most difficult part of the photography process, as Koudounaris had to obtain items from various locations and even enlisted a friend to help with some designs. However, Baba's modeling talent was exceptional, effortlessly achieving the ideal look and expression in almost all photoshoots. A Cat's Tale pays homage to all felines in our lives and their importance throughout history.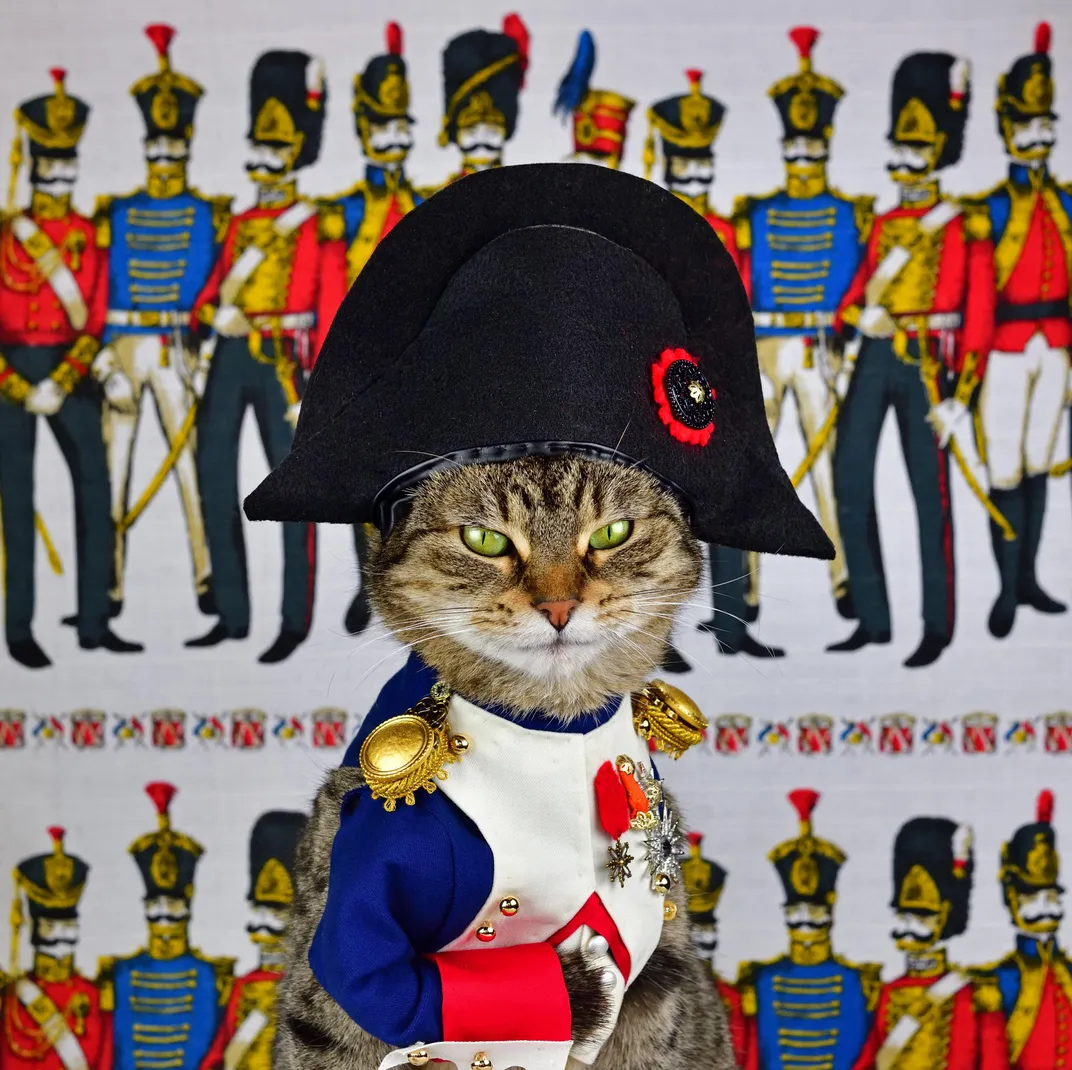 According to Paul Koudounaris, Napoleon Bonaparte was not particularly fond of cats and believed that dogs and cats displayed different types of loyalty. He was opposed to the use of cats for rat-catching purposes in Paris and opted for poison instead, which unfortunately caused sickness among both humans and rodents.
Andy Warhol, a famous artist known for his work in Pop Art, had a great love for cats and kept up to 25 Siamese cats at one time. He even created a book featuring lithographs of cats in 1954, which is now worth thousands of dollars. Paul Koudounaris went on a journey around the world, uncovering enchanting tales about cats everywhere he went. He explored the origin of Maneki-Neko, the Japanese cat that inspired the famous beckoning cat in Tokyo, and discovered Room 8, a gray tabby that served as a school mascot in Los Angeles for 16 years, receiving numerous fan mail, TV features, and even a biography. The Puss'n Boots Award, an award that was given out by a California cat food company during the 1950s and 1960s, was Koudounaris's favorite discovery. The award was presented to Clementine Jones, a black cat with seven toes on one paw, who walked from Dunkirk, New York, to Aurora, Colorado, in search of her human family. This event broke the notion that dogs were better than cats in American culture. Today, cats are celebrated pets and pop-culture icons, but Koudounaris believes there is still much more to learn about them. He encourages readers to appreciate their own cats and discover history through them.
During the days of the American frontier, cats were considered a rare and valuable commodity. They were so highly sought after that businessmen in the Midwest capitalized on this demand by buying and transporting large quantities of them to the Dakotas. It was like discovering gold for those who managed to get their hands on one. In the 1880s, a single cat in Arizona sold for a remarkable $10, which was quite a substantial amount at the time. Meanwhile, in Alaska, cats were held in such high regard that they could be traded for their weight in gold! These intriguing details about the significant role of cats in history were revealed by Paul Koudounaris.
During the 17th century in France, noblewomen started to favor cats over lapdogs as their preferred companions. Princess Elizabeth Charlotte, who was married to Philippe I, Duke of Orléans, even went as far as to declare cats as the most captivating creatures in court. This marked a significant shift from the upper class's previous preference for lapdogs. Presently, owning a cat as a pet remains a popular choice among many people who find them fun and charming companions.
After the American Revolution, the US government became the first to allocate funds specifically for cats. These funds were intended to support postal cats and totaled around $1,000 per year. Their primary responsibility was to keep the mouse population in check. The amount of money that each city received was based on the volume of mail they processed.
Following the Revolutionary War, the United States made history by allocating funds solely for feline welfare. The government earmarked roughly $1,000 annually to support postal cats, whose primary role was to eliminate mice. The funding allocation for each city depended on their mailing volume.